October 4, 2018
The finest trade of all
INTERVIEW BY ROD McDONALD
Hans de Jongh, president of Paridon Horticultural in Delta, B.C., is well known throughout Western Canada. Others in the trade describe him as sincere, personable and a true gentleman. He is all of those things and more. He is as sharp as a tack at assessing people and situations. His mind is always in full gear, trying to reinvent the wheel and make things better.
When you first meet Hans, you are impressed by his European charm and his positive attitude. Then you realize that you are talking to one of the finest salespeople within this trade — and this trade is filled with great salespeople. Hans grew up in the horticultural business, working in the tulip fields near Alkmaar in Holland. His father was the legendary bulb salesman Bert de Jongh, who had travelled Canada extensively starting in 1948. Hans's introduction to Canada was accompanying his father, and his dad would often say, "Canada is the land of opportunity."
Arriving in Vancouver on his own in 1976, at the age of 21, Hans planned to stay only one year in Canada. Forty-two years later with an incredible career, a wife, two sons and hundreds of friends, he still lives here, just outside of Vancouver. I met Hans at The Banff Trade Show in 1980, and we have been friends ever since. I asked him the following questions: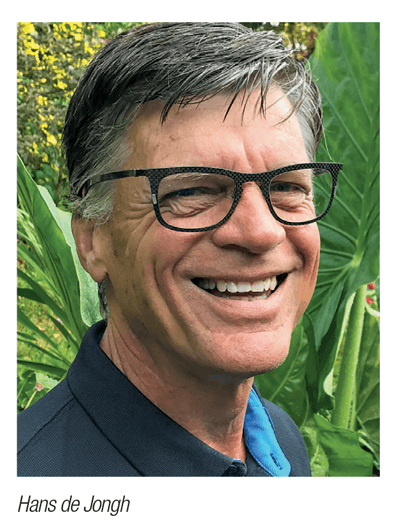 Q. Do you have regrets for the life you chose in the horticultural trade?
A. Not at all. I started working in the flower bulb fields at age 13 and developed an interest in gardening at that time. It is still my number one hobby. I have a big yard and enjoy spending my spare time gardening. A large part of my job, nowadays, is looking for new products and searching for new suppliers. Being a gardener myself makes that job easy.
Q. In the insanity of the spring and the shipping/selling season, how do you keep your life balanced?
A. Two things: I decided I would not live on the nursery, and secondly, my wife insisted I would always come home at a decent time. It forced me to be a better manager by delegating more of my work.
Q. Do you ever see bulbs coming back into fashion as a fall seller?
A. I thought we would never sell air ferns or Tillandsias again, and here we are selling them. Right now bulbs are not in fashion. The typical garden consumer wants finished product. They barely want to wait a few weeks to see results, let alone six months. Potted bulbs are still selling very well.
Q. What are your views regarding the box stores versus the independents?
A. When the box stores arrived in large numbers, starting in the 1990s, there was doom and gloom predicted. After the first year of Home Depot opening down the street from an independent, the small operator noted that whatever was special or new had sold well. The common varieties sat on the bench. An independent must continually find new products. Reinvent their stores. At one time, my company sold bulbs as a mainstay and yet we have not sold a bulb for almost 10 years. We have had to find different niches in the marketplace.
Q. What are some of the ways you learned to handle difficult customers?
A. Don't argue with them. Listen to their problems and find a quick solution. Why argue over $100, if the customer buys $10,000 per year? We only have a limited amount of customers.
Q. Do you agree that this is the finest trade of all?
A. I agree. After more than 40 years in this industry, I still enjoy going to work every day. It helps that we have great customers, many second- and third-generation. But above all else we have a great team, most of them being with the company for years. In order to keep good people you have to treat them well. Treat people with respect.
If you have a question to suggest, or a mentor to recommend, please write to editor@landscapetrades.com.

Landscape Trades, September 2018