April 1, 2016
Positive work culture empowers employees
This month's mentor is Kevin Nauss CLP of Price Landscaping Services in Moncton, N.B. His leadership roles include a board position with the Canadian Nursery Landscape Association, advisory service with the Landscape Horticulturist Red Seal program and governance for the New Brunswick Landscape Horticulture Training Institute.
Can you tell us a bit about your background and how you came to work in the green trades?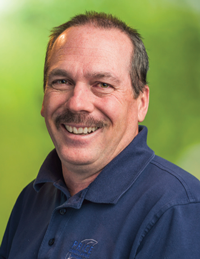 A. When I was younger, I worked in a variety of government jobs in Nova Scotia, including agricultural research. I took advantage of an opportunity to move to Toronto for a season to work for ChemLawn, where I got my feet wet in the green industry. Moving back to Nova Scotia, I first worked for a landscape company as its lawn care manager (and sales force and crew!), and in 1990 I applied for a job as a manager with Price Landscaping. Right from the start of the interview I was impressed with the innovative approaches taken by Kent Clarke, the owner, and have grown with the company ever since.
While I was working, I went back to school and did a year's training at the Nova Scotia Agricultural College, now Dalhousie University, and in 2001, Kent sold his company to three key employees (including me). We restructured Price Landscaping one-and-a-half years ago, and I am now the managing partner. I also have my Certified Landscape Professional designation.
Because Kent, my mentor, was one of the founding members of Landscape New Brunswick, I have supported our industry association from day one. It works to raise the bar for all of us. I value professionalism and have the ultimate appreciation for our customers. At the end of the day, we're in a service business and no matter what task you do, it's worth doing to the best of your ability.
Companies often seem to win enough work, but never make a profit. What are they doing wrong?
A. I think a lot of companies don't know their costs. I've always believed in having strong accounting support. You need to know where you stand every month, so you can make adjustments as you go. They are not always going to be easy decisions — you can't make your guys work harder than they already do — but you can make operational decisions during the season or set new sales goals.
I have never looked at what someone else's price is in order to bid on a job or get work. You have to base your work on what it costs your company to produce. Knowing costs isn't as simple as it sounds — there are a lot of variables in this industry, so you are always learning, learning, learning. And, if you think you are in trouble, don't be afraid to ask for help.
How can landscape companies find the time and money to provide training?
A. Along the line of not being afraid to ask for help, our company has hired consultants to engage fresh ideas from outside our circle. A few years ago we finally made a leap of faith and committed to do more training. Without a doubt, I can say the investment we made in both time and money has enhanced the company environment. We committed to Jim Paluch's Working Smarter program a few years ago, which provided us with the framework to train staff and improve our processes. We have kept up the momentum and training, and when the economy bottomed out a couple of years ago, the training and attitudes of our staff carried our company through a tough time. Our employees were more engaged, and acted on ideas. In turn, as they saw their ideas being implemented, it prompted more great ideas.
Committing to the Working Smarter Training Challenge was a bit scary, both in the cost and amount of time it required of staff. We also worried our key, long-term employees wouldn't buy into the concept, but in the end, our good people became great, and our borderline staff left. We really made the program our own, and have kept it up for over two years. Now we find we are looking for things to meet about, so we run Safety Tailgates, discuss a plant or insect of the week, and give out accolades as a company every Wednesday morning. There is a considerable amount of prep time required for the meetings, but it is a great exercise to get our maintenance and construction divisions together in the same room. They hear and appreciate each other's successes and struggles. Our crews have bought into the positive culture.
This is a hard business, and we need hard-working people. There are lots of challenges, but I try and keep a positive atmosphere.
Which business problem keeps you up at night?
A. Before we invested in company-wide training, I would have said 50 per cent worrying about customers and 50 per cent worrying about staff, but I can honestly say I now worry about our employees less. It's no secret customers are becoming more demanding, and we put a lot of effort into educating our customers. They expect good service; some customers need hand-holding, and when I have a lot on my plate, it is worrying about customer demands that keeps me up at night.
When I first started with Price Landscaping, the owner pointed to the lock on the door and told me to leave my work problems behind me at the end of every day. They will be waiting for me in the morning … I'm still working on that.
How do you avoid wasting time on dead-end calls? What is a professional way to pre-qualify customers?
A. Hmmm, someone could probably teach me the answer to this question. I am better than I used to be, but still struggle with this.
My personality is such that I want to please people, and treat people the way I want to be treated. Over the years I have learned to ask a lot of questions, and find that spending an initial 10-15 minutes on the phone is a lot cheaper than driving to the potential client's home to find out we aren't a good fit.
In sales, or any service business, the skill of listening can't be emphasized enough. There are no magic answers, and I learn from every homeowner I listen to. I book up my weeks, just like everyone else, but I have committed myself not to leave for the weekend until every phone call has been returned from that week. I shut my office door to return phone calls, and listen. Sometimes I spend five hours on Saturday in the office just returning calls, but my office has let the homeowner know I will call back by the end of the week, so I am working to meet their expectations.
Some people don't like to give ballpark figures on the first client contact, but I've developed some unit figures I use as ballpark numbers, only to help pre-qualify some clients. A lot of people don't have any idea of the true value of landscape work.
We've done is put together a list of other contractors homeowners can call if we feel the work isn't suited to our company. Some might see it as giving away work, but we know what works for our company. We see this as good customer service!
Ultimately, what works for me is treating customers the way I want to be treated.
---
If you have suggestions or questions for a leader to be featured in an upcoming issue, please email editor@landscapetrades.com