April 6, 2016
Green jewel on the Gaspe
An interview with Alexander Reford
BY SEAN JAMES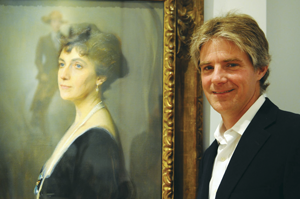 If you ever get to visit Les Jardins de Métis, also known as Reford Gardens, in the Gaspé Peninsula of Quebec, don't pass it up under any circumstances. It is a stunningly beautiful garden. Established in 1926, the garden is famous for its blue poppies and it has become very well-known for leading the trends towards eco-friendly gardening and re-establishing our connection between gardens and art. It is now the home of an annual international design competition. This is the 16th season of the festival and this year organizers had to select the 20 gardens from a record 309 submissions from all over the world. Blue poppies or art — either of those two pictures are worth the visit.
Most recently the garden has focused on sustainable gardening practices, including an eco-friendly display house and landscape, that goes all-out in terms of beauty, practicality and sustainability. I sat down with the director of the gardens, Alexander Reford, to chat about his views on sustainable gardens, their interactions with the public and what made him move in that direction.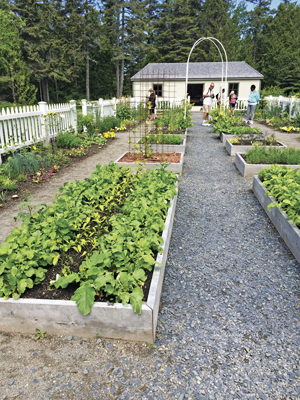 I asked him why the focus on 'eco-friendly?' Do you lead or follow? When and why? Alexander Reford says, "It's a matter of reading the tea leaves — being sensitive to media and public interest." The Vegetable Garden, also known as the Potager, for instance, was a response to trends — definitely following the public. The public was showing great interest in edible landscaping, so it made sense to create a demonstration garden to give the public more information on how to grow their own food. Staff created a lovely feature, showing that edibles can do more than just fill our bellies! They even use wild plants in the amazing on-site restaurant.
Being a seaside property makes the folks managing the garden extra aware of climate change. This leads to the next level of upcoming issues, such as invasive species and biodiversity. Alexander says he and the staff must be trend-spotters, following cutting-edge sources such as articles by members of the Garden Writers Association.
Sometimes it is a "chicken and egg" question, such as the decision to incorporate more sculpture into the garden. Were they creating a new trend or reinforcing an existing one? Like eco-friendly gardening, it took a while to catch on. Visitors to the garden often had visceral reactions to the art: love or hate. It's similar with environmental initiatives. Like much of society, the gardens are moving towards low maintenance and native plantings for practical reasons — less work, less money, less water use — but also for ethical reasons. Being a public garden, staff are creating educational tools to go along with these initiatives. There's an obligation for public gardens to lead, educate and advocate.
A beautiful bird-friendly garden shows how to work with nature. Feeding off the media reports we've all seen about pollinator decline, Reford Gardens now has beehives on-site. Both are getting good reactions from visitors.
Interestingly, the garden is now using sheep to mow lawn areas in the parking lot, instead of machines. This is not a 'first,' but it's certainly ahead of the pack. How is that working? Reford said, with a chuckle, "They don't behave exactly as planned," but it is working and it has made garden leadership think more about other agricultural exotics and how to use them. It's also great for visitors to the garden to see new (or REALLY old, revived) ideas like this. If nothing else, it makes people reconsider how they do things and wonder if there's a better way.
Reford says Les Jardins de Métis worries about the same issues the rest of us do. What's next? The garden is currently trying to acquire land for conservation — another wonderful opportunity to learn and teach. Beyond the chance to see trend-leading gardens, landscapers, horticulturists and garden lovers should visit to enjoy the elegant and diverse beauty that is Les Jardins de Métis.