September 1, 2011
Fall foliage standouts
BY DAVID VAN DE VEN
While trees and shrubs show off in the fall, we often forget about our perennial plant material. With the recent recognition of
Amsonia hubrichtii
(Arkansas blue star) as Perennial Plant of the Year, I thought it would be great timing to bring some perennials with unusual characteristics to your attention.
A. hubrichtii
has been featured in this column in past, so I will refrain from adding all details, but it does turn a fantastic yellow in fall, a great addition to just about any professional planting. Exciting fall characteristics may not be a factor that you as a professional would typically take in to consideration, but if plant lists are carefully considered, it can very easily be done!
Many perennial plants offer fall interest if you take into consideration late-flowering plants like Anemone and Chrysanthemum, or the unusual seed pods of things like
Belamcanda
(blackberry lily) or even
Convallaria
(lily-of-the-valley), both with very noticeably bright seeds or "fruits." Just a few of my suggestions follow.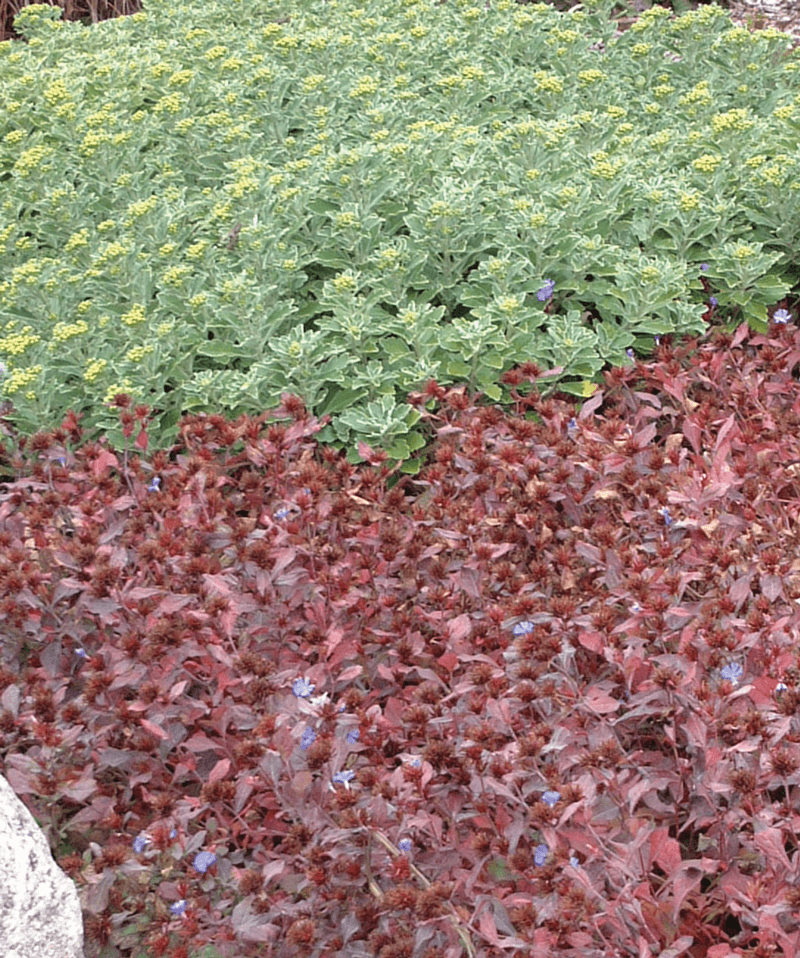 Ceratostigma plumbagnoides
Leadwort
25 cm tall
Now this is definitely an underutilized plant, and it happens to put on quite the show in fall. With green foliage in spring and summer with bright blue flowers in summer,
Ceratostigma plumbagnoide
s makes a great ground cover — but in fall the foliage begins to change to bronze. Very unique indeed! A location in the design that will permit some afternoon shade would be very beneficial for this selection; it does however tolerate full sun. Planted in large masses it will put on even more of a show, but keep it out of containers, it will not be happy. (Photo credit: Walters Gardens)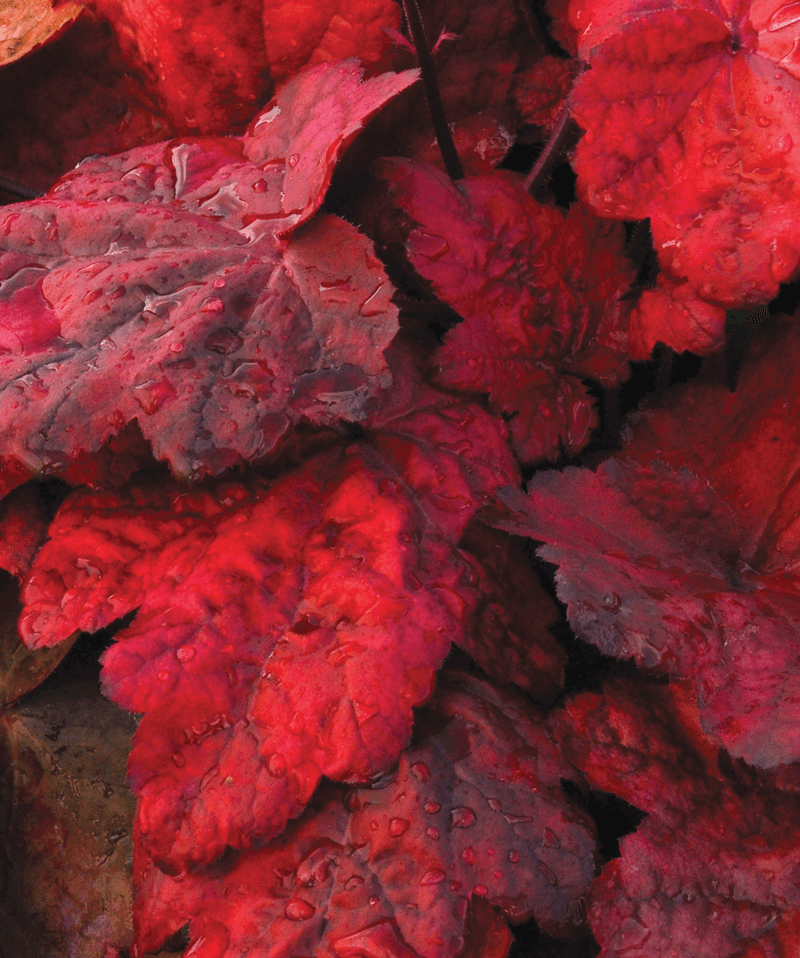 Heuchera
'Autumn Leaves' PPAF
Coral bells
20 cm tall
Of the extensive list of
Heuchera
we grow, 'Autumn Leaves' ranks as one of my personal top three selections. It has quite large leaves starting out the spring with red/purple colouring changes as the season continues. By fall the leaves will have evolved into a fantastic bright red. My reasoning for choosing this
Heuchera
over all of the others is quite simple; different viewing angles seem to change the colour of the foliage! These leaves have a fantastic sheen, which appears to alter their overall colour. Unfortunately it does not tolerate full sun or full shade. Ideally plant
Heuchera
'Autumn Leaves' in dappled shade or an area with morning sun only. Great selection for use in containers and in small groupings throughout the professional design. (Photo credit: Terra Nova Nurseries)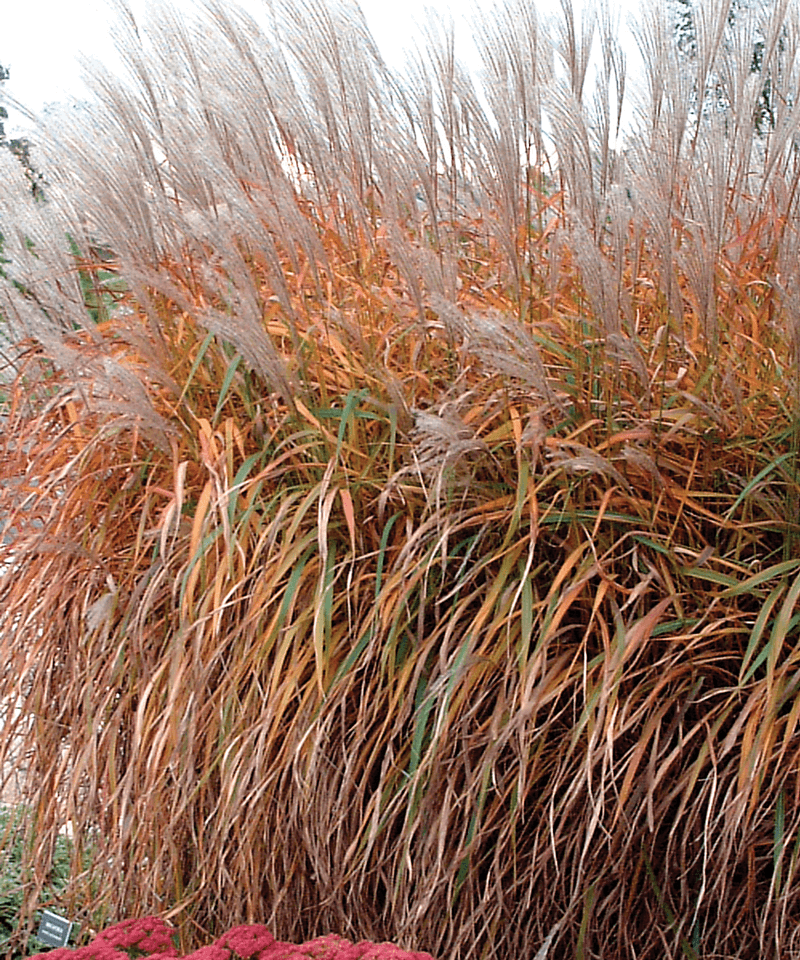 Miscanthus 'Purpurascens'
Flame grass
120 cm tall
This Miscanthus seems to become more popular every year, probably because of its versatility and durability. Flame grass begins the season in nice full clumps of green grass, perhaps a little more open than other
Miscanthus
. Mid-way through the summer you will notice the foliage beginning to change to a shade of red-purple. As the season edges closer to fall, the foliage will take on an outstanding red-yellow colour. Plumes will also form in a deep red-purple, and eventually open to a pure white feather-shaped bloom!
Miscanthus 'Pupurascens'
looks great in mass plantings or in pockets throughout the landscape, but will certainly not perform well in small containers. Hardy to zone four and definitely needs full sun. (Photo credit: Walters Gardens)
David Van de Ven is a perennial grower in Mount Albert, Ont.