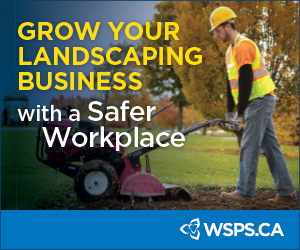 CanWest 2018: Beauty and brains
B.C.'s CanWest trade show has long been known for beauty, colour and creativity. CanWest exhibitors pull out all the stops when it comes to booth decoration. Their efforts go way beyond displaying products, to creating imaginative takes on each show's theme.
This year's event, taking place Sept. 26-27 at Tradex in Abbotsford, B.C., is themed "Roots & Blues." Seeing the interpretations of this earthy theme, alone, justifies attendance.
Over 300 trade show exhibits are the heart of CanWest, and essential to western Canada's horticulture industry. To complement, organizers are staging CanWest's largest educational offering to date, featuring 31 sessions. New this year is a Truck and Trailer Workshop presented by a pro trainer. The schedule also features a tour of the Fraser Valley, a Landscape Designers Symposium and an Urban Forest Symposium.
Attendees can also choose from two half-day workshops: Bubbling Water Rock Features, and Kevin Kehoe on effective leadership. Other sessions are planned for every green sector — growers, contractors and retailers. Business management topics will help raise the bar for all, including a free keynote by TV and radio personality Cisco Morris.
The British Columbia Landscape and Nursery Association stages CanWest, so career development has always been a key priority. A plant ID station in CanWest's Certification Zone offers the opportunity to challenge a certification module, just as if administered by CNLA. Completed contest forms enter a draw to win $250. The Green Careers Student Youth Tour and Mini Job Fair connect students with potential employers.
Rob Welsh of Kwantlen Polytechnic University has been involved with the show since 1988, and volunteers on the Certification Zone. He says, "Whether through education sessions, new products and technology or for the value of meeting with industry friends and colleagues, I can't think there is a better show of its kind. Sitting in the same session with the range of experienced participants and striking up a conversation, or just listening to the discussions, often is as much value as the session topic, and may lead to opportunities or invitations to a student."
To help delegates wind down, free Tailgate Parties are planned on both show days. Enjoy live performances from Kenny 'Blues Boss' Wayne and Karla Sax, as you catch up with old and new friends. For complete information and CanWest registration, visit
canwesthortshow.com
.