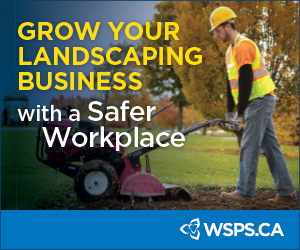 NEWS
Mentor moment - January 2019
Michael Pascoe is dedicated to nurturing budding talent at Fanshawe College
LT Industry News January 2019
News and information from the green industry
Interest rates and contracting - Legal matters
In order to receive a specified rate of interest, the rate should be expressly provided for in the contract.
Taking care of ourselves - Road to success
We take care of people, we take care of plants and more. There is no shortage to the things that we oversee, supervise, manage and take care of. It is in our nature. It is who we are.
Three ideas to make work better - Management solutions
Top three improvement initiatives that had the biggest impact on hundreds of landscape companies in 2018.
Paving the future
Permeable solutions slow runoff, and give enterprising contractors a great differentiation story
Urban soils: Naturally unnatural
Changes to an urban soil's profile can limit successful planting establishment, but understanding these changes can help address site challenges.
Condo sprouts trees
Design-forward Toronto project aims to plant a vertical forest
The plastic crisis
Can horticulture find a sustainable path forward?
Tree of remebrance
An opportunity to plant an oak seedling for the 100th anniversary of Armistice at Vimy, France and the chance to share the event with students.
Your health, your company — and silica dust
Why dust is such a serious health hazard and what you can do about it
Perennials for commercial landscapes
Use a perennial palette to enrich public spaces with textures, colours and seasonal interest
Catalyst for trust - Mentor moment
Jacki Hart administers Landscape Ontario's Peer to Peer Network and coaches landscaping pros and other clients.
CNLA news November 2018
News from the federation of Canada's provincial horticultural trade associations.
Newscape November 2018
The latest news and happenings in the green industry
Bonds in construction: Part two - Legal matters
An overview of types of bonds, applicable limitation periods and claims against bonds.
Emotionally charged business - Road to success
The more we tap into emotional selling, the more successful we can be in our careers.
Work like a video game - Management solutions
Simple ways to adapt your business to change with the times.
Do consultants make landscaping greener?
The costs and benefits of consultants, from one landscape contractor's experience
Industry news October 2018
The latest news and happenings in the green industry
Obligation to supply salt during a shortage - Legal matters
Potential salt shortages means companies need to review their contracts and obligations with customers.
Manager of guest expectations - Road to success
Managing experiences and expectations of customers keeps businesses on the road to success.
New edible for 2019
New edible plants for the 2019 season.
New roses 2019
New roses for the 2019 season.
New woody plants for 2019
New woody plants for the 2019 season.